Carol Service
Posted: 14th December 2022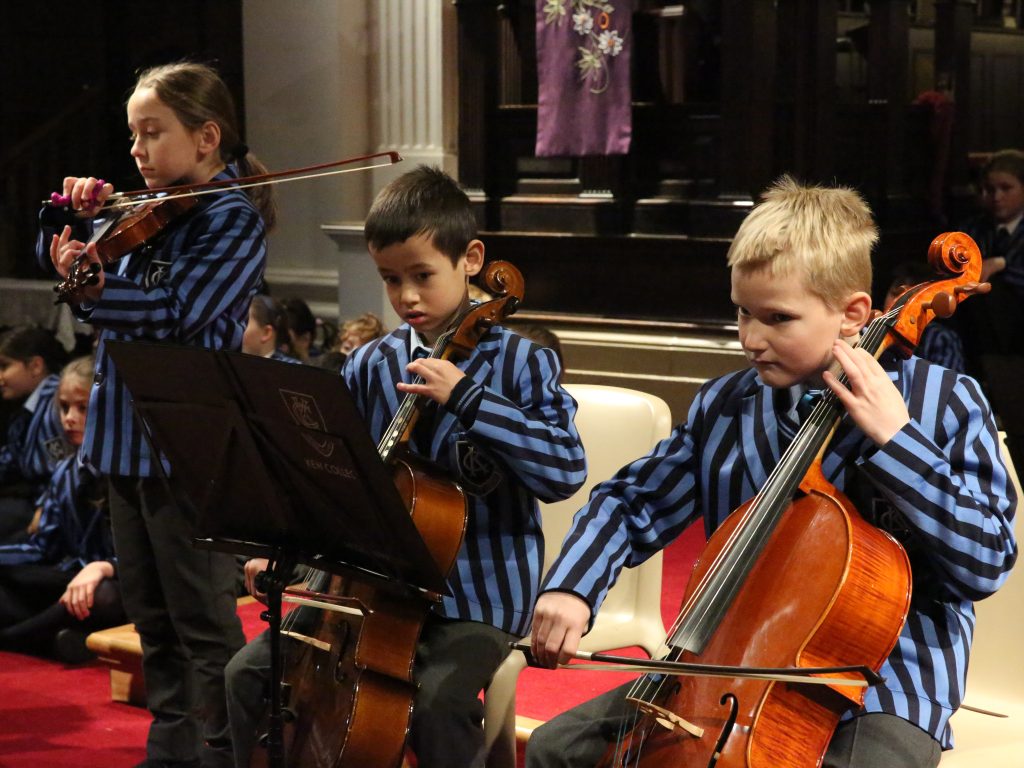 Definitely my highlight of the year at Kew College Prep; on Tuesday we finished the term with our annual Carol Service at St Anne's Church. Once again, the standard of singing was raised by our young musicians, and the performances were nothing short of outstanding across all year groups from start to finish.
It was lovely this year to have congregational singing for the first time in ages. This made such a big difference with the sound resonating through the church with carols like The First Nowell and, of course, I couldn't resist giving parents their own little solo with 'Five Gold Rings' in the Twelve Days of Christmas – thank you for this participation: I know the children enjoyed that bit!
The Carol Service was truly magical, and the Junior House raised the bar of expectation for our high-quality music in all areas.
Opening the event, with our prelude, we heard String Group perform Silent Night and Good King Wenceslas. This is the first time we have had three cellists and a harp in the group; simply marvellous! Wind Band then followed this with a fabulous trio medley, including Deck the Halls, Away In a Manger, and We Wish you a Merry Christmas. Both ensembles delivered wonderful performances and we hope that numbers continue to grow with these high-standard extra-curricular music clubs. Well done to our young musicians for opening the Service!
This year's programme was a mix of traditional and classic Christmas pieces. We had a brave Year 6 soloist singing Once in Royal David's City – Tilly did an amazing job at filling the church with her bright tones, and hopefully that will be a moment she remembers years after leaving Kew College Prep.
The programme then ran with various year groups all doing their bit for the remaining 15 carols.
Firstly, the whole of the Junior House sang The First Nowell, then Ding, Dong, Merrily on High and we were treated to a vocal group from 6J: Sophie A, Oscar A, Derin A, Poppy M, Daniel P, Pip P, and Molly W. Following this, upper school (Year 5 and 6) wowed us, once again, with the two-part harmony version of The Sans Day Carol, including a 6T vocal group: Nikhil A, Lara F, Zaara M, Ioan P, Clemency SH, Samvid S, Arshia T.
Next, we had a couple of single year group pieces: Year 4 treated us to their rendition of Angels from the Realms of Glory, which was promptly followed by Year 5 singing The Sussex Carol; both pieces were brilliant and they certainly did the year group proud!
At the halfway point, who can resist joining in with The Twelve Days of Christmas- I am not sure who enjoyed this carol more: the parents or children! Both sides of the church sang their hearts out to this well-known song. I loved the energy during this and was pleased to be part of conducting the parents vs children vocal battle..
Year 3 then sang a really sweet version of O Little Town of Bethlehem. They always do so well at their first Carol Service, and I am delighted that this particular Year 3 cohort were such enthusiastic singers. This was followed by the middle school (Years 3 and 4) singing the upbeat Calypso Carol which had most people tapping their feet and humming along.
The following carol was, perhaps, the most ambitious of all! This year, we decided to add O Come, All Ye Faithful back to the repertoire, and the children certainly rose to the challenge.
The piece started off with another vocal group from 6J: Alastair C, Hanna D, Olivia-Grace N, Isabella P, Eddy R, Alejandro SV and Ami T.
It was fabulous hearing so many sing the famously high descant, and utterly breath-taking hearing so many people singing in two-part harmony for this. Well done!
The next carol is always a favourite; Year 6 sang In the Bleak Midwinter which was utterly breath-taking. Our final 6T vocal group: Zara A, Sabera A, Max G, Titan H, Flora M, Erik P, Theo R and Aayush W, started the opening verse, and the final verse in two-part harmony, which was simply magical. The altos absolutely shone through with this and I look forward to hearing what other challenging pieces they will perform throughout the academic year.
In contrast, we then heard the uplifting classic Latin-based carol In Dulci Jubilo, split between Years 5 and 6, where the enjoyment was clearly visible by them jigging along.
Years 3 and 4 then marked an important stage of the Christmas story by singing a lovely rendition of Joy to the World, which was followed by a debut performance of Reindeer on the Roof! Everyone absolutely loved this, and it was refreshing to sing a modern piece as part of our annual repertoire. I could see the parents dancing in their chairs to this one.
We stayed with tradition for the closing carol, Hark! The Herald Angels Sing where Year 6 impressed us with their wonderful descant, and the whole Junior House choir left through their formal procession.
I was utterly thrilled with the high-quality deliverance of the Carol Service this year. Each and every young performer gave it their all. I would like to thank everyone involved in this: Junior House children, staff from school and parents in the audience. I look forward to seeing how the standard continues to grow next year.