Kew Sparkle
Posted: 2nd December 2022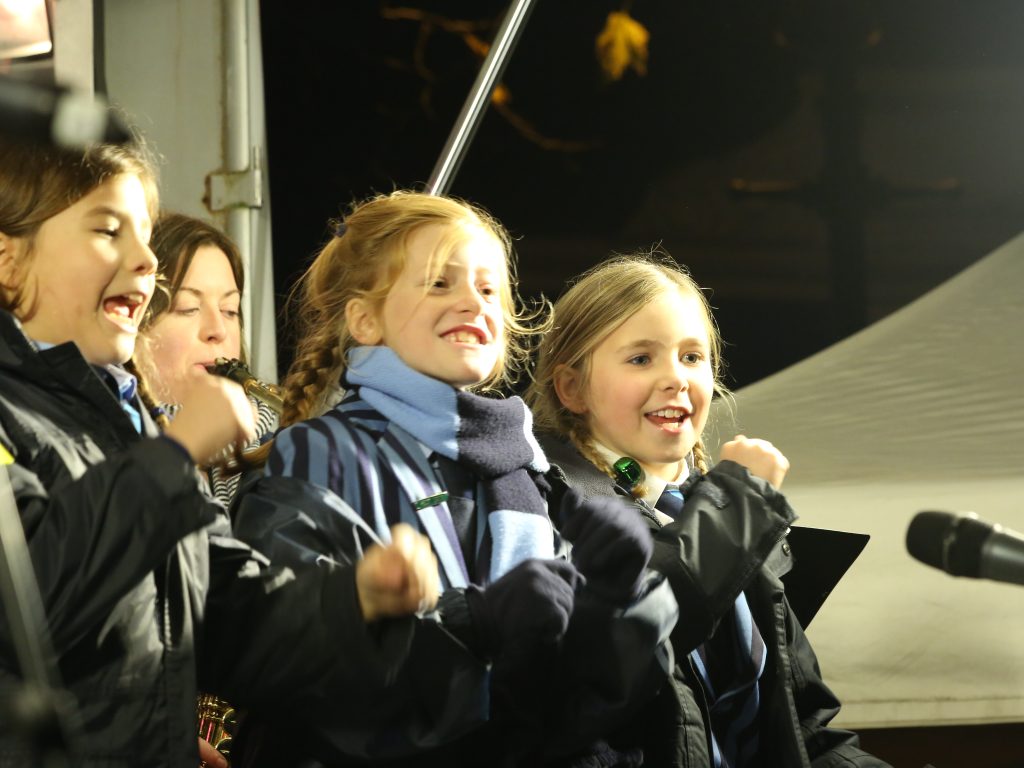 What better way to end the week, than with some sparkle and singing?
On Friday evening, we participated in the annual village event: Kew Sparkle. This was a combination of all the local schools showcasing their musical talents on stage.
This year, we combined our middle school (Junior Vocal Group) and upper school (Upper School Choir) to form an almost 40-strong super choir. This is the largest number of singers we have ever had for this event, and they certainly stood out!
Our choirs did a wonderful job of spreading some Christmas cheer to the audience. Despite the cold and damp, we brightened everyone's evening by singing some classic songs: Jingle Bell Rock, Rudolph the Red Nosed Reindeer, Merry Christmas Everyone, Most Wonderful Time of the Year, and Jingle Bells. All of these songs were performed from memory, and of course: it would not be Kew Sparkle without some fun actions thrown in.
The whole evening was a mass of entertainment. With lots of stalls, musicians, and even Santa on his sleigh circling around the village, you can always expect to have a lovely time at Kew Sparkle. We were really well supported by parents and staff, so Miss Taman would whole-heartedly like to thank everyone for giving up their time on a Friday night to watch our choir performance.
The combined Y3-6 choirs worked together beautifully; you would not believe that this is the first time they have ever sung together on stage. Each and every singer performed with energy, enthusiasm and gusto! They all knew the lyrics perfectly and were keen as ever to perform to the appreciative audience. It has been a delight to work with these extra-curricular singing groups all term, and the Kew Sparkle performance was certainly the climax and reflection of all their hard work.
Miss Taman would like to take this opportunity to thank all the performers. They continue to raise the performing standard year on year, and the number of keen singers thrives at our school. I hope to see all of you next term when the choir clubs re-start, and we always have room for newbies!
Thank you, and well done to both choirs for their superb efforts at this event.